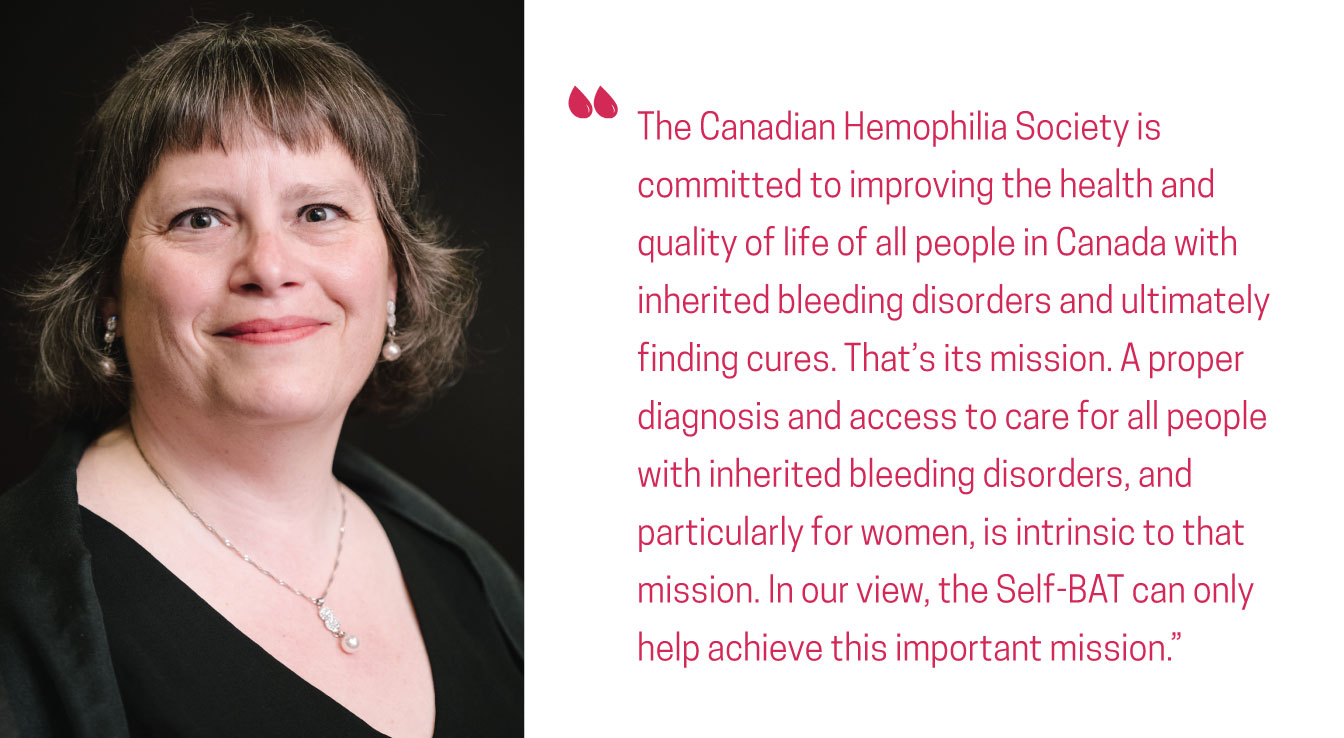 Let's Talk Period Launches Self-BAT… in French!
---
Let's Talk Period is very proud to launch the Self-BAT in French!
A special thanks goes out to the Canadian Hemophilia Society (CHS) for their support. We recently chatted with Chantal Raymond, CHS' National Communications Manager, about her thoughts on Let's Talk Period, and the recent bilingual launch of the Self-BAT.
Why did CHS feel it was important to have Let's Talk Period's Self-BAT translated into French?
Allow me to say again how much we at the Canadian Hemophilia Society (CHS) appreciate the Let's Talk Period website and its Self-BAT. In the CHS' Strategic Plan, one of the goals is to deliver evidence-based information and support to patients, their families, health care providers, and the general public across Canada in both official languages – English and French. In the same vein, the Self-BAT is a great tool that deserves to be available to as many people as possible and this means the French-speaking Canadian population.
How difficult was it to translate?
The CHS has produced bilingual educational material for decades. We have expertise and qualified translators that make things quite easy when it comes time to go from one language to the other.
Our talented translator, Marie Préfontaine, has been working with us for nearly 25 years. Marie, who has a particular interest in von Willebrand disease, has been our medical translator for all of our medical material for all these years.
Are there specific fundraising activities or initiatives you would like to mention?
Funding for projects of this kind are part of our sponsorship requests we make annually to our pharmaceutical partners.
Anything else you'd like to add?
The Canadian Hemophilia Society is committed to improving the health and quality of life of all people in Canada with inherited bleeding disorders and ultimately finding cures. That's its mission. A proper diagnosis and access to care for all people with inherited bleeding disorders, and particularly for women, is intrinsic to that mission. In our view, the Self-BAT can only help achieve this important mission.
It was great speaking with you, Chantal!
To learn more about effective treatments or to continue the conversation, please get in touch with us by writing to us at the bottom of our website homepage. Join our communities on Facebook and Instagram to get regular information about bleeding disorders and help other women be empowered by this knowledge.