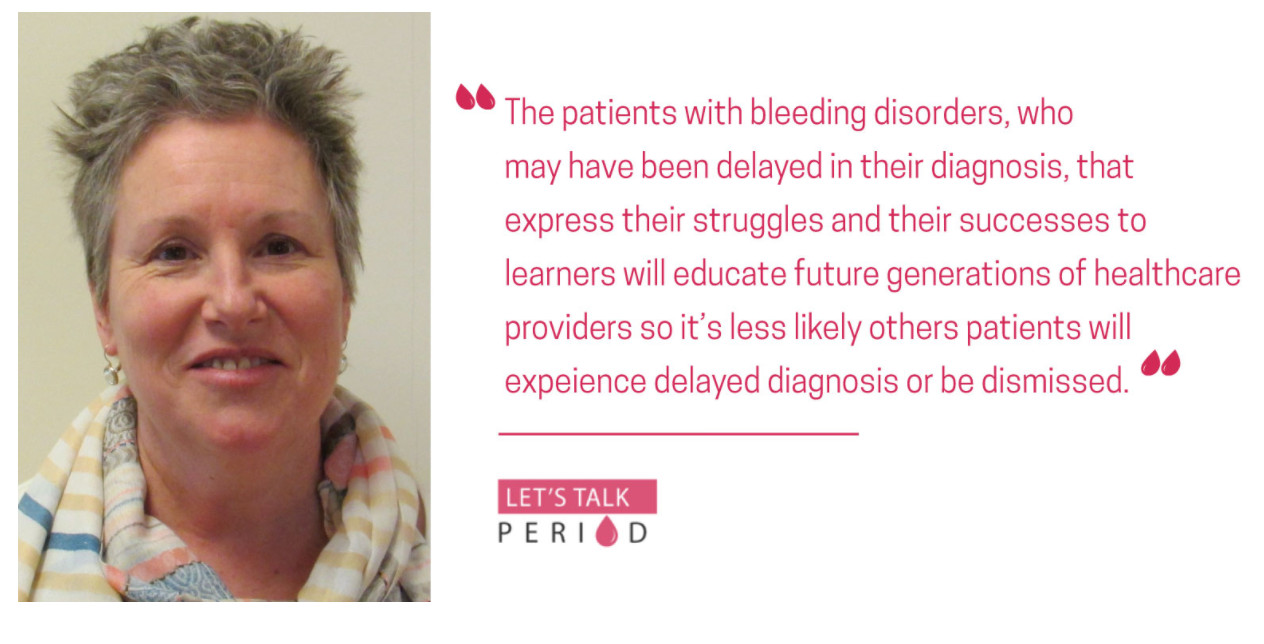 Perspectives From a Gynecologist: An Interview with Dr. Mary Anne Jamieson!
---
Dr. Mary Anne Jamieson works alongside Dr. Paula James at Kingston General Hospital's monthly Women and Bleeding Disorders Clinic, a combined clinic where our female patients struggling with heavy menstrual bleed can see hematology and gynecology at the same time.
This clinic is available to our patients of all ages as paediatric hematology will also be involved as necessary. We sat down with Dr. Mary Anne Jamieson to learn more!
How long have you been doing the Women and Bleeding Disorders clinic with Dr. James?
About 6 years, off and on.
How do you like it?
I love this clinic because these women with bleeding disorders are patients that are really in need of the kind of help I can offer, and we can usually be really successful in helping them control their menstrual flow in a way that they find satisfactory. The team approach is very gratifying and it allows me do the things that I am really comfortable with, knowing that the other members of the team will be looking after the other parts of the patient's care that they are really comfortable with, and it all fits together as comprehensive care for the patient. I also really like that I can make use of both my pediatric/adolescent and adult gynecology experience and expertise in one clinic and help all age groups.
What other roles do you play in this clinic?
I really see my role as making sure that no one attributes the bad bleeding to just being caused by a bleeding disorder and misses something else that might be adding to it. My job is to find out if there is something else gynecological going on i.e. fibroids, polyps, pre-cancer, so that is always a very achievable goal for me.
I am also a surgeon, and perform procedures to help with heavy menstrual bleeding i.e. endometrial ablation, fibroid surgery, hysterectomy. I never take the risk of surgical bleeding lightly, all surgeries have a bleeding risk, despite the best care and preparations, but I actually feel very comfortable operating on these patients, even though they are considered higher risk, knowing their bleeding disorders are identified and managed and are optimized ahead of time through this clinic.  I feel the chance of intra-operative and post-operative bleeding is actually less than in my generic gynecology surgery patients that may have an inherited bleeding disorder that hasn't been picked up yet.
How often do you see women complaining of heavy menstrual bleeding in your gynecology practice, outside of the Women and Bleeding Disorders Clinic?
Very regularly, especially in my adolescent gynecology practice, the symptoms often present there. This is where I can make good use of a Bleeding Score, and lately, have been telling my patients to go onto Let's Talk Period to take the Self-BAT. It has always been part of my practice to try to identify which of these patients have an inherited bleeding disorder, but I am better at it now having worked on this team, being more aware of resources available for those patients. Adult gynecologists are always dealing with heavy menstrual bleeding, and we're in a wonderful position to pick up women with inherited bleeding disorders, either having a post-partum bleed, excessive or prolonged menstrual bleeding, not responding to the usual treatments as we expect they should, or having low iron or anemia. Gynecologists have an important role to play, and we're always improving. Awareness is key.
It seems like this clinic is an ideal teaching setting for fellows and residents in gynecology to learn about inherited bleeding disorders and raise that awareness.
I would like patients to realize that they have a real role to play in embracing the teaching centre. Even in gynecology settings, where the care may seem more intimate or private, learners at all levels will be better able to care for patients if they have been included in teaching environments, like the Women and Bleeding Disorders clinic.  The patients with bleeding disorders, who may have been delayed in their diagnosis, that express their struggles and their successes to learners will educate future generations of health care providers so it's less likely others patients will experience delayed diagnosis or be dismissed.
Anything else you want to share?
I find this clinic quite fun. When a physician feels they have something to offer, they enjoy their job more, and I find this clinic very satisfying. I am usually able to help these patients and I enjoy these patients and the team members immensely.
Thank you for talking with us, Dr. Jamieson! It's good to know that there are resources out there for women to get the help they deserve.
To learn more about effective treatments or to continue the conversation, please get in touch with us by writing to us at the bottom of our website homepage. Join our communities on Facebook and Instagram to get regular information about bleeding disorders and help other women be empowered by this knowledge.